Holiday Bake Two Ways
It's that time of year when winter squash starts popping up everywhere and warm, hearty dishes begin to make the rounds. I love those foods, and fully embrace them once the weather gets cool and November rolls around.
This whole-food based dish utilizes some of the season's most iconic produce: butternut squash, fresh cranberries, and crunchy apples. With warming spices and a sweet touch of honey, it makes one of the simplest but most stunning side dishes. The best part is that it is so versatile, you can eat in in both sweet and savory ways and it is delicious! If you want a more savory use for it, consider eating it mixed with chickpeas and laid over salad greens, on a bed of wild rice or roasted spaghetti squash, or even used as a topping for a tender pork chop. If you want a sweeter take, use it as a topping for Greek yogurt or vanilla ice cream. It's hearty, colorful, and packed with flavor (and nutrition!). Plus, with only a few ingredients and minimal hands-on time, it's easy to have ready-to-go. Enjoy this one all season long!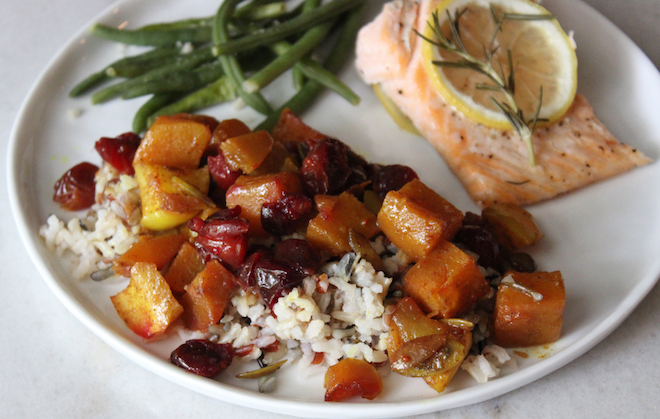 Cranberry & Butternut Holiday Bake
A colorful, tasty way to bring holiday flavors into any meal of the day.
Ingredients
1 ¼ cup fresh cranberries
4 cups cubed butternut squash
1 cup (1/2 large) chopped apple
⅛ cup pumpkin seeds
½ tsp cinnamon
½ tsp turmeric
¼ tsp cardamom
¼ tsp cloves
½ tsp nutmeg
½ tsp salt
2 Tbsp olive oil
1 Tbsp honey
Instructions
Preheat oven to 350 degrees.
Mix all ingredients in a 9x13 baking dish, cover loosely with foil and bake for 30 minutes.
Uncover and bake for another 10 minutes, or until the edges of the squash are browning.