Zucchini Carrot Mini-Muffins
It's Mini-Muffin Monday! Everyone loves a good muffin, right? While not often thought of as a "healthy" choice, muffins can actually be a great way to get in some fruits, vegetables, and fiber that might be missing in the diet in other places. It's a matter of making them in a way that is both delicious and smart. Plus, making them in a mini-muffin tin help control portions and makes them so much cuter! This is one of my favorite ways to share baked goods- there are more to go around, and the perfect little bite to complement the rest of your breakfast or snack. I'll often make muffins in the mini-muffin pan as well for events like parties, showers, brunches, etc.
Today's muffin recipe is a riff off of a Giada de Laurentiis recipe, which I tweaked to make it more to my taste. Feel free to substitute the type of vegetables, dried fruit, or nuts of your choice.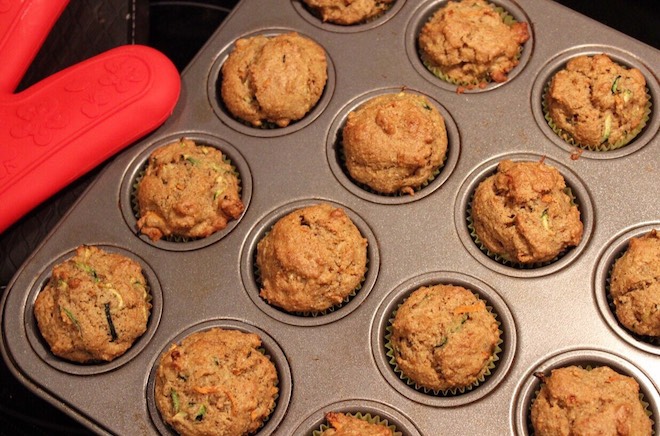 Zucchini Carrot Mini-Muffins
Ingredients
½ cup almond meal/flour
¾ cup white whole wheat flour
¼ tsp salt
1 tsp baking powder
½ tsp baking soda
2 tsp ground cinnamon
¼ tsp freshly grated nutmeg
⅓ cup canola/olive blend oil (grapeseed oil works well too)
⅓ cup maple syrup
1 large egg, room temperature
½ cup grated carrots
½ cup grated zucchini
¼ cup chopped walnuts
¼ tsp vanilla extract
Instructions
Place an oven rack in the center of the oven. Preheat the oven to 350 degrees F. Grease the mini-muffin pan or line with small paper liners. Set aside.
In a medium bowl, mix together the flours, salt, baking powder, baking soda, cinnamon, and nutmeg. Consider using a sieve to ensure all components are well-blended and smooth.
In a separate medium bowl, whisk together the oil, syrup, vanilla, and egg. Add the dry ingredients and mix until just combined. Mix in the grated carrot, grated zucchini, and nuts.
Using 2 small spoons, fill the prepared muffin cups ¾ full with the batter and bake until light golden, about 15 minutes. Cool for 5 minutes. Transfer the muffins to a wire rack to cool completely, about 30 minutes.