Zucchini Carrot Mini-Muffins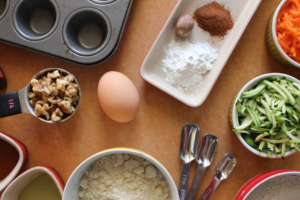 ½ cup almond meal/flour
¾ cup white whole wheat flour
¼ tsp salt
1 tsp baking powder
½ tsp baking soda
2 tsp ground cinnamon
¼ tsp freshly grated nutmeg
⅓ cup canola/olive blend oil (grapeseed oil works well too)
⅓ cup maple syrup
1 large egg, room temperature
½ cup grated carrots
½ cup grated zucchini
¼ cup chopped walnuts
¼ tsp vanilla extract
Place an oven rack in the center of the oven. Preheat the oven to 350 degrees F. Grease the mini-muffin pan or line with small paper liners. Set aside.
In a medium bowl, mix together the flours, salt, baking powder, baking soda, cinnamon, and nutmeg. Consider using a sieve to ensure all components are well-blended and smooth.
In a separate medium bowl, whisk together the oil, syrup, vanilla, and egg. Add the dry ingredients and mix until just combined. Mix in the grated carrot, grated zucchini, and nuts.
Using 2 small spoons, fill the prepared muffin cups ¾ full with the batter and bake until light golden, about 15 minutes. Cool for 5 minutes. Transfer the muffins to a wire rack to cool completely, about 30 minutes.
Recipe by
Perennial Nutrition
at http://perennialnutrition.com/2017/02/20/zucchini-carrot-mini-muffins/