Turkey, Feta & Arugula Meatballs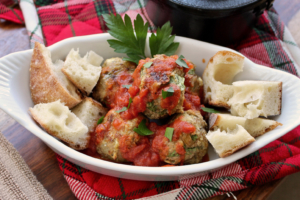 1 onion, diced
1 tsp minced garlic
1 lb ground turkey
¾ cup panko bread crumbs
½ cup packed baby arugula leaves
¼ cup feta cheese
1 egg
½ tbsp nutritional yeast
½ tbsp dried parsley
1 tsp dried oregano
½ tsp dried basil
Sauté the onion over medium heat in 1 tbsp olive oil with some salt and pepper to taste until it starts to brown and caramelize just a bit (about 15 minutes).
Add the minced garlic and sauté for another minute or two.
Set the onion and garlic aside to cool just a bit.
In a large bowl, add the ground turkey, bread crumbs, arugula, feta cheese, egg, and dried herbs.
Add in the onion and garlic mixture.
Mix everything together well, and form into balls about the size of a golf ball with your hands.
Bake the meatballs on a parchment paper-lined cookie sheet at 375°F for about 22 minutes, or until browned and cooked through (internal temperature at least 165°F), flipping once during cooking.
Serve hot with desired dish.
Recipe by
Perennial Nutrition
at http://perennialnutrition.com/2018/12/11/turkey-feta-arugula-meatballs/