Spring Pesto Pasta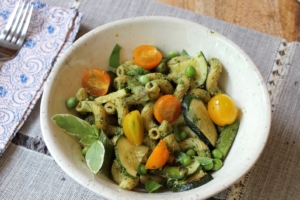 Pasta of choice
¼ cup fresh shelled spring peas (or frozen peas if fresh are not available)
2 small to medium sized zucchini
1 bunch asparagus
1 cup packed dark leafy greens- I used a mix of kale and collards
½ cup packed basil leaves
½ cup walnuts
4 cloves roasted garlic
¼ cup olive oil
1½ tbsp Nutritional Yeast
3 tsp fresh lemon juice
Pinch of salt to taste
Small tomatoes (I used Sungold tomatoes)
Sliced green onion
Extra basil
Heat oven to 400 degrees F.
Wash and prep the asparagus and zucchini, and place on a sheet pan along with 4 peeled cloves of garlic.
Drizzle with oil, salt and pepper, and roast in the oven for 20 minutes, removing the garlic after 10 minutes.
While the vegetables are roasting, cook pasta according to directions.
Add about ¼ cup of peas to the pasta pot for the final 2 minutes of cooking just to blanch them.
Drain the pasta and peas in a colander.
While the pasta is cooking, mix all the pesto ingredients (greens, basil, nuts, roasted garlic, olive oil, nutritional yeast, lemon juice, salt) in a food processor and blend until well mixed.
Once everything is cooked, mix the pasta, peas, roasted vegetables, and pesto together until well coated.
Top with desired additions, such as tomatoes, green onions, or extra basil.
Enjoy hot or chill and eat cold as a pasta salad!