A perfectly sweet treat for Valentine's Day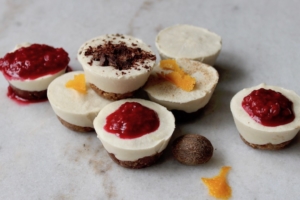 Base:
½ cup pecans
¾ cup gluten-free oats
1 tsp cinnamon
1 tbsp honey
1 cup pitted dates
1 tbsp of cold water (use more or less as needed for consistency)
Optional 1-2 tbsp cacao powder (if more chocolate taste is desired)
Filling:
1 ¼ cup cashews, soaked in warm water for at least 2 hours
¾ can unsweetened full-fat coconut milk (use the cream on top)
¼ cup maple syrup
½ tsp orange zest
¼ tsp vanilla extract
Optional toppings:
Frozen berries, simmered in a pan and reduced until thick compote
Chocolate shavings
Orange zest and grated nutmeg
Soak 1 ¼ cup of cashews in warm water for at least 2 hours.
Grease a mini-muffin pan well.
Blend pecans, GF oats, cinnamon, honey, dates and optional cacao powder together in a food processor until well mixed and starting to stick together.
Slowly add in a small amount of cold water while mixing to help the mixture stick together better, just enough that it forms a ball and is easy to shape with your fingers.
Fill the bottom ⅓ of each mini-muffin tin with the date-pecan-oat mixture, pressing down until well-packed. Place in freezer for about 30 minutes-1 hour, until firm in the tin.
Meanwhile, blend the filling ingredients in a blender.
Spoon this mixture over the date-pecan-oat base.
Add toppings if desired.
Place in freezer again and freeze until hardened, at least 5 hours or overnight.
Let soften at room temperature for 2-3 minutes before enjoying.
Recipe by
Perennial Nutrition
at http://perennialnutrition.com/2018/02/09/a-perfectly-sweet-treat-for-valentines-day/