10-Minute Dinner: Stuffed Baked Potato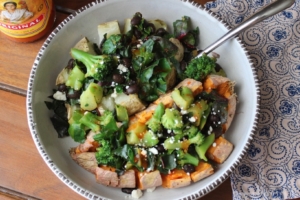 1 medium-sized potato (variety of your choice)
1 tbsp olive oil
1 cup frozen broccoli
¼ cup black beans, from a can that has been drained and rinsed
½ cup of spinach, or greens of your choice (frozen or fresh, but if frozen may want to do 1 cup)
Seasonings of your choice
1 tbsp of hot sauce
Sprinkle of feta cheese (or nutritional yeast if vegan)
Scrub your potato well, pat dry, and poke with a fork in a few places.
Cook the potato in the microwave until softened and cooked through, usually about 7-10 minutes depending on size.
Optional: Finish the potato off in the toaster over to crisp it up a bit if desired.
While the potato is cooking, saute the frozen broccoli, spinach, and beans in a pan in 1 Tbsp olive oil and any seasonings you desire.
Once everything is heated through, top the potato with the bean, spinach and broccoli mixture.
Top with hot sauce and feta cheese, if desired.
Recipe by
Perennial Nutrition
at http://perennialnutrition.com/2018/02/03/10-minute-dinner-stuffed-baked-potato/