Winter Greens Salad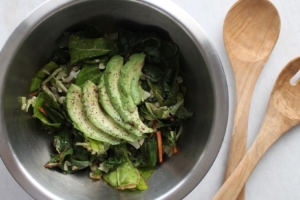 3 cups loosely packed greens (mixed rainbow chard and collards, or your choice)
2 cups pre-made cabbage slaw
1 Tbsp olive oil
2 Tbsp balsamic vinegar
Salt and pepper to taste
¼ tsp sumac (if available)
Avocado to garnish
Put your greens in a large bowl.
Pour the olive oil and vinegar (or your salad dressing of choice), as well as the salt, pepper and sumac (if using) on the greens.
Massage the greens with the dressing until they start to break down a bit; they will become less structured and probably decrease in size.
Add in the cabbage slaw.
Mix well and top with avocado or other toppings as desired.