Breakfast To-Go: Egg Muffins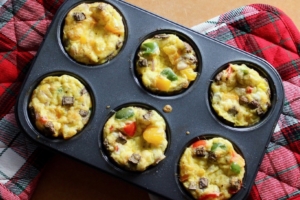 ¼ cup diced mushrooms
¼ cup diced onion
½ cup diced peppers
¼ cup shredded cheddar cheese
6 eggs
Salt and pepper to taste
Put the mushrooms, onion, peppers and cheese into a bowl.
Crack eggs and scramble, then mix into all other ingredients in the bowl.
Pour ⅓ cup of the mixture into each cup of a greased (6-cup) muffin tin.
Bake at 350 for ~22 minutes, or until cooked through (done when a knife inserted comes out clean).
Recipe by
Perennial Nutrition
at http://perennialnutrition.com/2018/01/20/breakfast-to-go-egg-muffins/