Slow Cooker Stuffed Peppers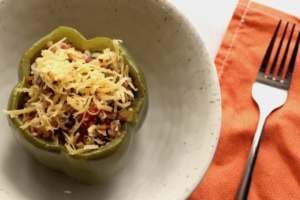 4 bell peppers
¼ cup shredded carrot
¼ cup diced onion
½ cup diced mushrooms
1 cup uncooked wild rice blend
¼ cup shredded cheddar cheese
1, 14.5oz can fire roasted diced tomatoes
½ pound raw ground chicken
½ cup finely chopped greens (chard, collards, spinach, kale- whatever you like)
¼ tsp turmeric
¼ tsp cumin
¼ tsp cayenne
½ tsp garlic powder
½ tsp onion powder
¼ tsp black pepper
¼ tsp salt
¼ tsp chili powder
½ tsp smoked paprika
Cut the tops off of all of the peppers, remove the ribs and seeds from the inside, and rinse.
Mix all of the other ingredients together in a bowl.
Stuff the opened peppers with the mixture until it reaches the top of each one.
Pour ½ cup water into the bottom of the slow cooker.
Place the peppers into the slow cooker and cook on high for about 3-4 hours.
Recipe by
Perennial Nutrition
at http://perennialnutrition.com/2018/01/27/slow-cooker-stuffed-peppers/