Friday Night Leftovers: Chicken Soup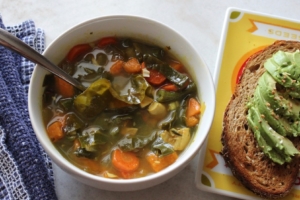 2 Tbsp olive oil
3 carrots, diced small
1 small sweet potato, diced small
1 onion, diced
4 heads of garlic, minced
4 diced mushrooms
small handful of green beans, diced
5 collard green leaves, chiffonade-cut (long, thin strips)
6-8oz of pre-cooked chicken, diced
¼ tsp sea salt (or to taste)
½ tsp black pepper (or to taste)
¼ tsp ground cumin
½ tsp turmeric
½ tsp dried oregano
¼ tsp ground ginger
2, 32-oz boxes of chicken broth (or vegetable broth)
Optional: dash of cayenne or red pepper flake for a kick
Peel and dice the carrots and sweet potatoes into small pieces.
Heat the olive oil in a large pot over medium-high heat.
Add in the sweet potatoes and carrots and let them cook until starting to get tender, and slightly browned on the edges (any browning gives the soup even better flavor).
After about 7 minutes, add in the diced onion and cook until they start to soften, about 3-4 minutes.
Turn down the heat to medium or medium-low.
Next, add in the garlic, mushrooms, and green beans along with all of the spices, and saute for a few more minutes.
Once all of the vegetables are getting soft, add in the chicken broth and diced chicken, plus the strips of collard greens.
Let everything heat through together, add more spices to taste, serve, and enjoy!
Recipe by
Perennial Nutrition
at http://perennialnutrition.com/2017/12/29/friday-night-leftovers-chicken-soup/