Cacao Energy Bites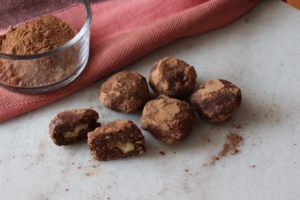 ½ cup pecans
½ cup cashews
½ cup walnuts
1 cup dates
3 Tbsp creamy Almond butter
2 Tbsp cacao powder
¼ tsp sea salt
1 Tbsp hemp seeds
Put all ingredients into a food processor and pulse until everything is very well-blended and the mixture starts to form clumps.
Roll in between your hands into small balls, about 1-inch diameter (consider placing a nut in the center for a crunchy surprise!).
Consider rolling in extra cacao powder for a very chocolatey taste.
Chill in refrigerator for at least 30 minutes before eating.
Store in an air-tight container in the fridge.