Turkey and Sweet Potato Chili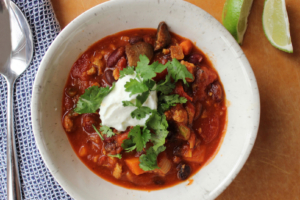 2 Tbsp olive oil
1 sweet potato, diced small
2 carrots, diced small
4 mushrooms, diced
1 green bell pepper, diced
1 medium onion, diced
3 cloves garlic, minced
1 lb ground turkey
1 can fire-roasted diced tomatoes (15 oz)
2 cans tomato sauce (15 oz)
½ tsp chili powder
¼ tsp of cayenne pepper
¼ tsp smoked paprika
¼ tsp garlic powder
¼ tsp onion powder
¼ tsp black pepper
⅛ tsp salt
½ tsp turmeric
½ tsp ground cumin
¼ tsp curry powder
Sprinkle of crushed red pepper flakes
Brown the turkey in your pot, then remove and set aside.
In the same pan, saute the onion and garlic in the 2 Tbsp of olive oil over medium-high heat for 3-5 minutes, until onion starts to turn translucent.
Add in the sweet potato, carrot, and bell pepper until vegetables start to soften, about 10 minutes. Add in the mushrooms and all of the spices, saute for about 2-3 more minutes.
Add back in the browned ground turkey, along with the diced tomatoes and tomato sauce.
Let all ingredients simmer over medium-low heat until all of the vegetables are fork tender and flavors have melded together.
Adjust seasonings for your desired spice level.
Serve with toppings of choice. Examples: sliced avocado, a dollop of plain yogurt, cilantro and a squeeze of fresh lime juice.
Recipe by
Perennial Nutrition
at http://perennialnutrition.com/2017/11/30/netflix-and-chili/