Key Lime Pancakes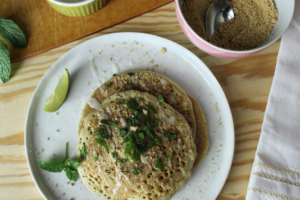 Recipe type:
Breakfast/Brunch
Pancake recipe of your choice, or pre-made pancake mix
2 Graham crackers, pulsed or crushed into crumbs
Fresh lime juice and zest from 1 lime
Handful of chopped fresh mint
½ cup confectioners sugar
Make your pancakes according to the directions of your recipe.
To make the glaze, mix ½ cup confectioners sugar with the juice of ½-1 lime until it is a semi-thick consistency, able to drizzle over pancakes.
Meanwhile, pulse the Graham crackers in the food processor until they are fine crumbs, or crush in a zip-top bag until finely crushed.
Top your pancakes with a drizzle of the glaze, Graham cracker crumbs, and bits of chopped fresh mint.