Mediterranean Flatbread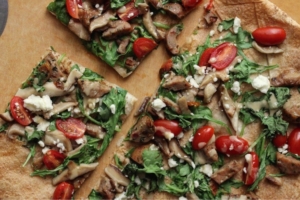 Flatbread of choice- I used one that I purchased from a local Mediterranean restaurant
1 link chicken sausage- I used a "caprese" variety, but Italian would be good here too
1 cup arugula
½ cup cilantro
½-1 cup sliced mushrooms
½ cup sliced cherry tomatoes
Feta cheese
Tahini
Preheat the oven to 400°F. Place flatbread on a large baking sheet and par-bake in the oven for about 5 minutes, or until starting to turn golden brown. Remove from oven.
While the flatbread is baking, sauté the mushrooms and sliced chicken sausage in a pan with 1 Tbsp olive oil.
Spread the arugula evenly over the par-baked flatbread, then spoon the sausage/mushroom mixture over the arugula. Top with the tomatoes and a sprinkle of Feta cheese. Drizzle with tahini.
Put the completed flatbread back into the hot oven to heat through and lightly melt the cheese, about 4-5 minutes. Enjoy!