Greek Yogurt Egg Salad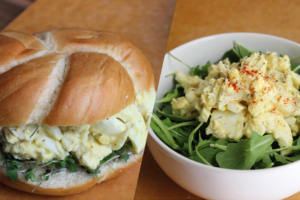 6 Hard Boiled eggs
Greek Yogurt to taste (I usually use 2-3 Tbsp)
Mustard of choice to taste (I usually use ~1 Tbsp and alternate between yellow, Dijon or grainy mustard)
Dried dill weed (~1-2 tsp)
Salt and pepper to taste
Chop or slice your hard boiled eggs into a bowl.
Add Greek yogurt, mustard, and dill.
Mix together until all of the egg is coated in the dressing, but not so much that the eggs get smashed.
Add salt and pepper to taste.
Enjoy on toast, over a bed of greens, or by itself. Optional add-in ideas include: diced carrots, celery, radish, or other crunchy vegetable; chopped pickle or relish; diced tomatoes; red pepper flake or paprika.