Honey Nut Granola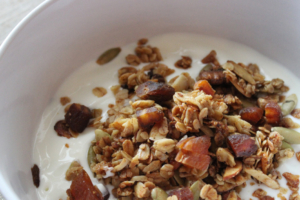 4 cups rolled oats
½ cup chopped walnuts
½ cup slivered almonds
½ cup raw pepitas (pumpkin seeds)
¾ tsp cinnamon
¼ tsp ground ginger
¾ tsp fine salt
¾ tsp fresh ground nutmeg
⅓ cup olive oil
scant ⅓ cup honey + 2 Tbsp maple syrup
1 tsp vanilla
(optional) ½ cup chopped apricots, or dried fruit of choice
Preheat the oven to 350°F.
In a large bowl, mix together the oats, nuts/seeds, spices, and salt. In a small bowl, whisk together the olive oil, honey, maple syrup, and vanilla. Pour the liquid oil and honey mixture over the oat mixture, stirring well to coat.
Pour onto two large sheet pans, lined with parchment paper. Bake at 350°F for 20-25 minutes. Stir the oats around the pan about halfway through cooking. Keep a close eye on them, as the honey tends to make the granola brown more quickly than other sweeteners.
Cool on cooking racks once browned and crisp, then add in the chopped dried fruit. Store in an airtight container. Enjoy over milk, yogurt, oatmeal, smoothies, cottage cheese, ice cream, or by itself for a delicious, crunchy, whole grain treat!